Woodstock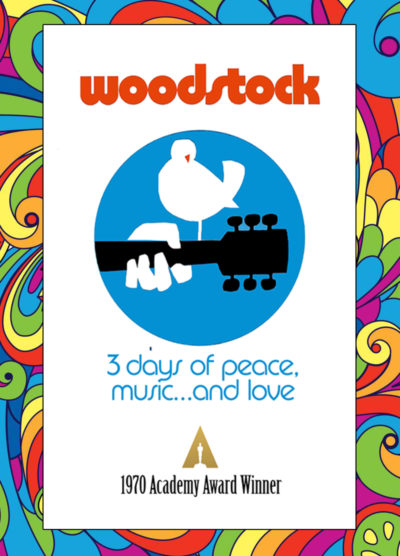 August 16
Event at 6PM; Film at 7PM
SASS's Wagner Room
Jam Session • Groovy Food • Raffle • Tattoos • Music
This iconic musical documentary covers the three-day 1969 music festival on the property of Max Yasger's farm that symbolized the late 1960s in terms of musical, social and political ideology of the era. American audiences are introduced to Ten Years After, featuring guitar great Alvin Lee. Jimi Hendix, The Who, and Joe Cocker (among others) give riveting performances. 1970 Academy Award Winner.
Starring:  Joan Baez, Richie Havens, Roger Daltrey…more.
Rating: R
Length: 3h 4min
Kid/Friendly: Age 16+  Nudity, Language, Drug Use, Sexual References
Genre: Documentary, History, Music
Production: Bob Maurice
Director: Michael Wadleigh
Studio: Warner Brothers Pictures
TICKETS $20 before August 15; $25 at the door.