How a Sense of Humor Landed Megan Ferguson a Leading Role on Netflix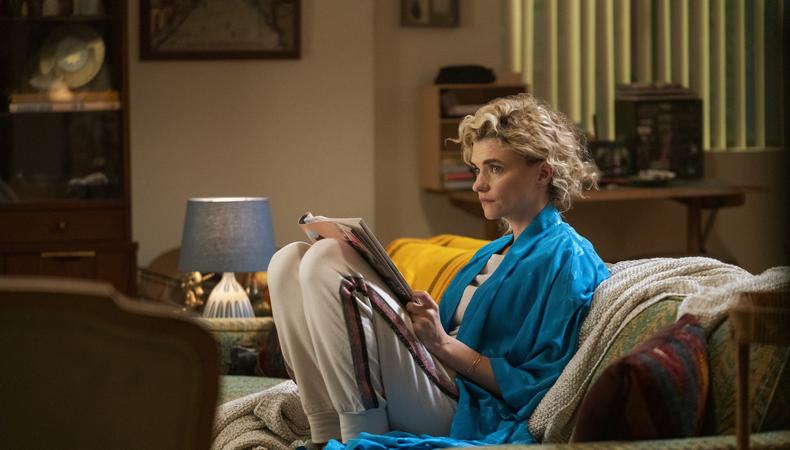 The following Career Dispatches essay was written by Megan Ferguson, who stars on Netflix's new musical series "Soundtrack," premiering Dec. 18.
The idea that I am giving any sort of career advice is humorous, considering that I just attempted to make a self-tape by propping my cell phone on a Mrs. Potato Head. So please take these anecdotes with the appropriate grain of salt (and accompanying tequila shot). I feel truly lucky that I have made it to a state of employment as an actor and below are my takeaways from a decade of trying to get here! Wishing you humor on your own trail.
Your worst audition can become your greatest cocktail party story.
I once got a fancy audition for a fancy Broadway play. By happenstance, I had just seen the original production of said play in London and because actors can sometimes be lunatics, I thought that coincidence was a sign the role was meant for me. It was my first time auditioning with an accent and I wasn't sure if I was supposed to only use the accent for the scenes or stay in it for all the in-between chit-chat, too. I was so nervous that I split the difference: just a nutty 23-year-old who feels destined for a part, weaving in and out of various British dialects. They said thank you after my first scene and I walked all the way to the door before my brain, unable to accept reality, thought, "Oh! Maybe they just meant to genuinely thank me and they want to hear the song." Reader, I turned around and said—in a cockney accent—"Do you want to hear the song?" They did not. Have you passed away from secondhand embarrassment yet? Terrible audition, great story, world continues to spin.
If the casting director says wear less blush, wear less blush.
After what I thought was a fantastic read, I was asked by a casting director in a rather brusk tone to "tone it down and come back with less blush on." Well, I never. The nerve! Was she raised in a barn!? In a profound rebellion against bad manners, I returned to my callback wearing the same amount of blush, if not more. The film was set in a small rural town, I was auditioning for a frumpy receptionist, and in a twist no one saw coming I was not cast in the role. The casting director was trying to help me get the part but my ego got hurt—over my application of blush. So nowadays if casting directors say something in a tone I don't love, I try to run it through a manners translator: "OK, she thinks I could get this part. In order to fit into the world of the film, I need to adjust my tone a bit and (if you insist) wear less blush."
READ: How to Audition for Netflix
Nerves can make you into a robot; try to be a normal person.
See cockney accent story above! In auditions or on set or in rehearsal, try to remember everyone is a human in the middle of their day, so interact accordingly. If you have a question, just ask! If you have no idea what is going on, just say so! Most people are happy to help you find your mark/the bathroom/God. And do what you need to do to combat those nerves. I am not allowed to have coffee before an audition for obvious reasons.
Small goals!
Ok. This is my only tangible bit of advice: Career goals can become overwhelming but are also necessary, according to those sociologists who do studies about people with written goals achieving wild success. Big goals like "Become a national treasure" can feel implausible and make you/me feel like a failure every time Dec. 31 rolls around. Enter small goals! For example: Audition for a film; write one scene; reach out to a potential collaborator; go to pilates once a week (that one's mine but you are welcome to share it). This way, when you're feeling adrift in this career, you can re-focus on smaller, attainable actions—and nothing makes my Virgo sun happier than checking things off a list.
Reps! Don't be afraid.
This took me 100 years to learn. I get it. Getting an agent can feel like, OK NOW IT'S HAPPENING DON'T MOVE OR YOU WILL MESS IT UP. Communication is all you have. You need to be able to have respectful and honest conversations with your reps, and they need to be able to have them with you. They are calling people on your behalf, so ideally they know what you think and want and can communicate that to others! Approach the relationship with the integrity and honesty you are seeking in return. Am I Oprah?
Share your small goals (!) with them, and discuss how you can help each other. Ask questions; reach out. Ideally, y'all are teammates with different skill sets and the same goals. (Does that metaphor make it clear I didn't play sports?) And last but not least, if you ever feel ignored or disrespected by a representative, you're allowed to move on in your life without them. It can be an unwieldy career at times, and you should have people by your side who are psyched to be there.
The End:
You don't need any acting teacher guru's approval. You don't need a degree. You literally don't need anyone's permission or blessing or even a driver's license. This is a career with shockingly few prerequisites, so enjoy it. And buy Jenna Fischer's book, "The Actor's Life: A Survival Guide."
HUGS,
Megan Ferguson